2019 Ronald P Herman Sr. Conservation Partner Award
Posted Jan 3, 19 in Awards,
Wyoming County Information Technology Department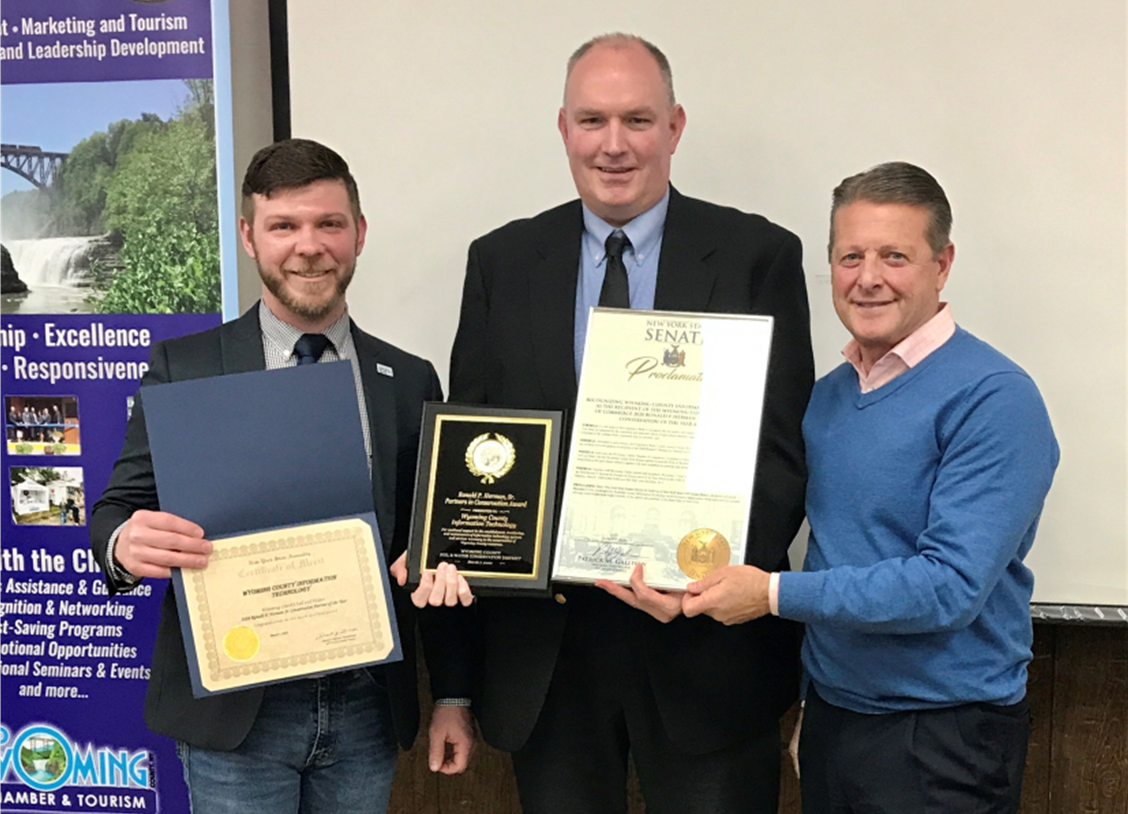 Partnerships improve and strengthen the outputs of any agency, and very few agencies operate solely by themselves. The Wyoming County Soil and Water Conservation District has improved its technological abilities since its inception in 1940. One of the biggest advancements in the District over the past 80 years has been the availability and utilization of technology to deliver District programs.Technology is used by the District on a daily basis; from basic email capabilities to the use of Geographic Information Systems and Global Positioning Systems. The District would not be able to operate as efficiently without the support of the Wyoming County Information Technology Department.
2019 Agricultural Environmental Management (AEM) Award
Posted Jan 2, 19 in Awards,
Meeder Farms, LLC of Pike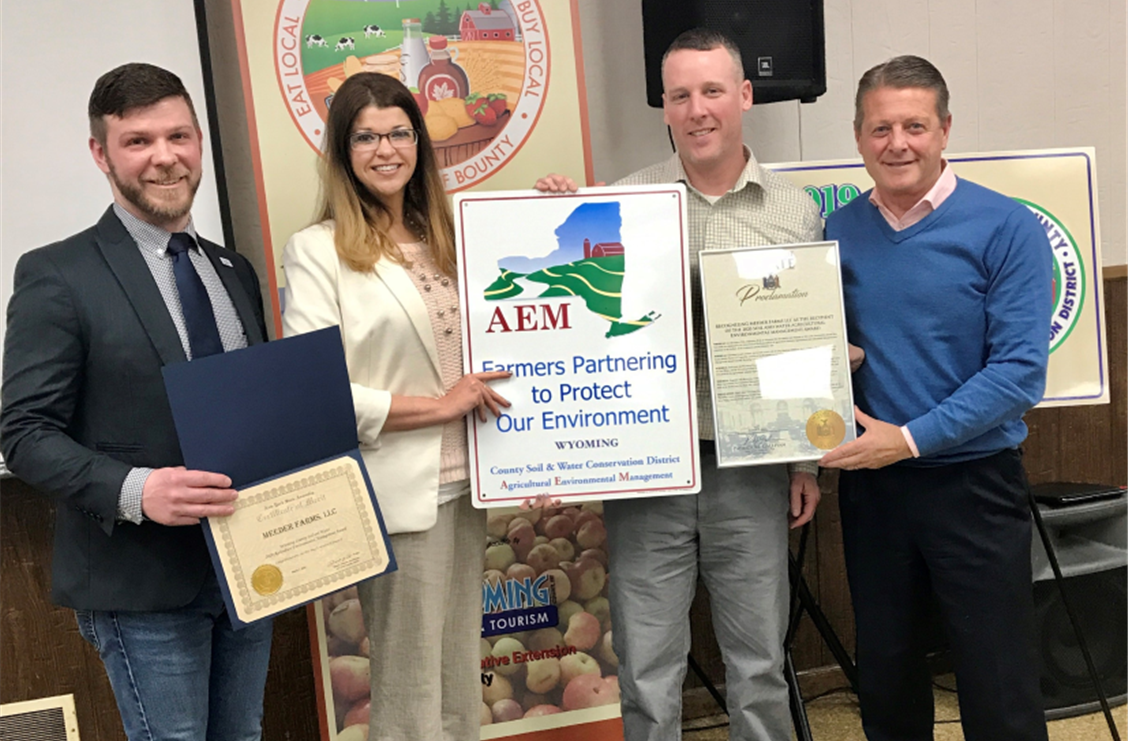 Meeder Farms, LLC has been in operation for 25 years, located in Pike. They operate over 425 acres to grow alfalfa, corn, and hay that is used by other farms in the area.The farm has zone-tilled it's ground, doing away with more conventional tillage methods. They have implemented cover crops on a majority of the operating land and have also experimented with interseeding cover crops with corn.They have also improved drainage in fields they operate in order to help prevent soil compaction with equipment. These measures to improve soil health and reduce erosion have benefitted the farm, as the crops they produce have only continued to improve.
2019 Wyoming County SWCD Conservation Farm of the Year
Posted Jan 1, 19 in Awards,
Broughton Diversified Farming, LLC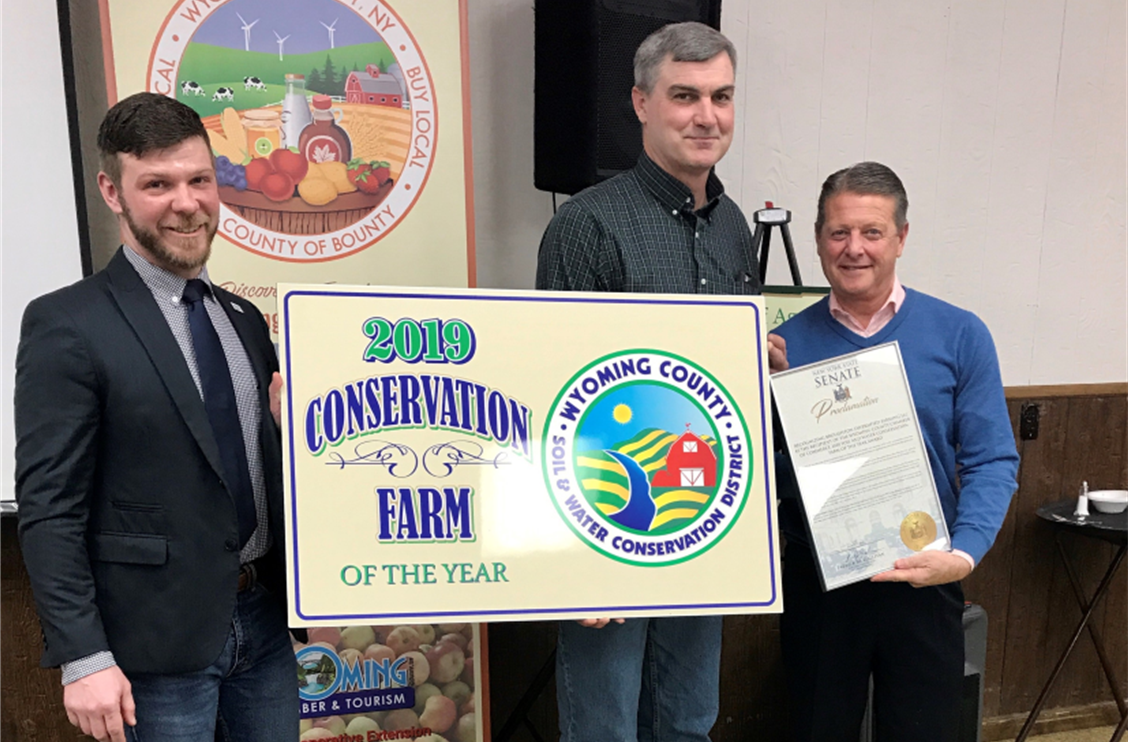 Broughton Diversified Farming raises beef cattle, having the capacity for 900 heifers. The operation works over 800 acres of ground both owned and rented, working 3600 maple taps, boiling their own sap, selling seed corn, and offering custom planting, bailing and chopping services to other farm operations in Wyoming County. The farm and family members are actively involved with both 4H and FFA, Pete is a farm bureau member and a member of the Letchworth School Board as well. The farms driving force in its work both on the farm and off is the children. Providing a lasting legacy and a future through natural resources conservation and land stewardship is of the upmost importance to the farm. Broughton Diversified Farming, LLC has made continuous efforts to reduce their impacts on the environment and promote best management practices, which support some of the main goals of the Wyoming County Soil and Water Conservation District.
2018 Ronald P Herman Sr. Conservation Partner Award
Posted Jan 3, 18 in Awards,
Victor DiGiacomo, Associate Environmental Analyst, NYS Soil & Water Conservation Committee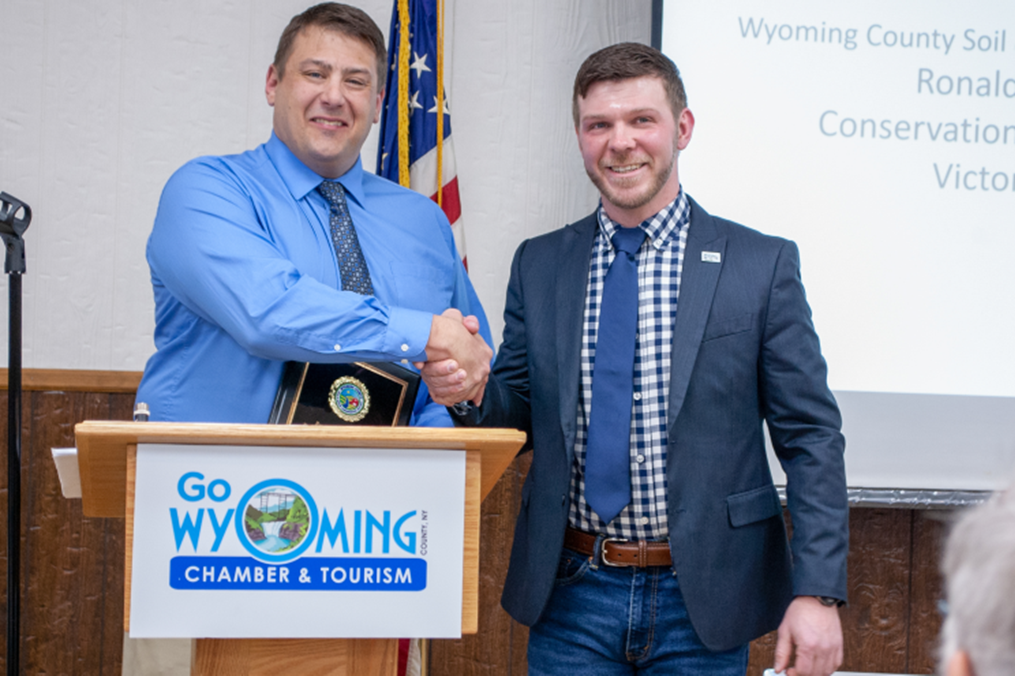 2018 Agricultural Environmental Management (AEM) Award of the Year
Posted Jan 2, 18 in Awards,
Pankow Farms of Castile, NY