Conservation Education
The Wyoming County Soil and Water Conservation District sponsors a number of educational activities that are specialized for people of all ages. We feel that it is extremely important to provide the leaders of our future with the knowledge to respect and care for the environment around them.
Envirothon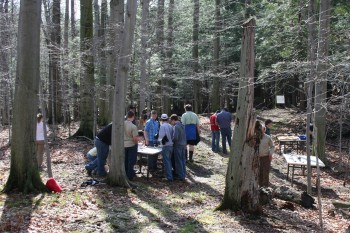 Each May, high schools from Wyoming County and surrounding counties participate in the Trailside Envirothon. This is an all day event that tests and challenges students' knowledge about the environment. They are tested in five main areas including: Aquatics, Forestry, Soils, Wildlife, and Current Issues. In preparing for the big day, students interested and passionate about their environment learn and study these topics. Winners from each county are then sent to the state competition where they compete against the best of the best from counties all around New York State. After completing all stations, students get to participate in The Water Taste Test. Water samples from towns around Wyoming County are provided and the students get to judge which is the best tasting.
Wyoming Co. Hosts the Trailside Envirothon at: Trailside Lodge at Letchworth State Park, Castile, NY * Visit the New York State Envirothon Website for resources, study materials, and other important information*
Soil Stewardship
The last week in April and beginning of May is Soil Stewardship Week. It is a week to celebrate soil and all its properties. In honor of Soil Stewardship week, the SWCD sponsors the sale of educational materials to promote soil and water education. Working with local schools and churches, the SWCD donates numerous educational pamphlets and activity sheets which create a fun and easy way to learn about soil and water.
Local Events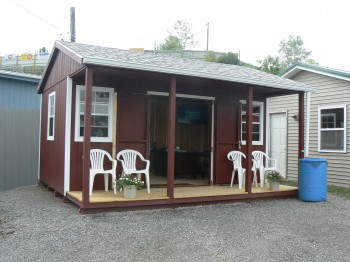 The Wyoming County SWCD not only sponsors and hosts conservation education events, but we also participate in other local events to spread the word about soil and water conservation. Some events where you can find us are:
Wyoming County Agri-Palooza
Wyoming County Fair - visit us at our new building!
Learn to Catch a Fish Family Picnic – Sponsored by Letchworth State Park
The Wheel of Conservation at the Wyoming Co. Fair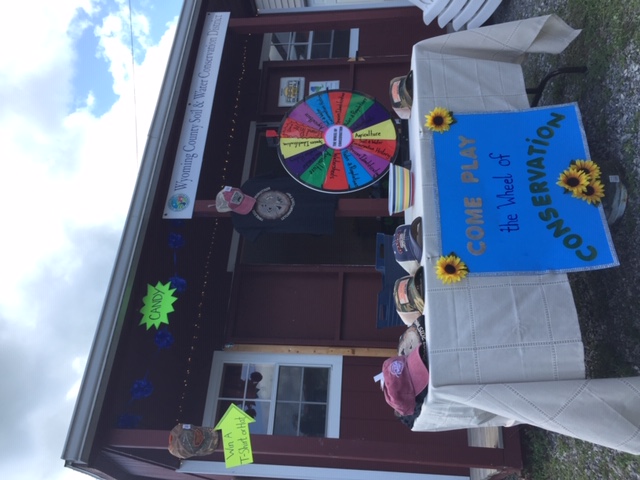 A recent addition to Wyoming Co. Soil and Water's building at the fair is the Wheel of Conservation. Featuring categories such as soil and water history, plant and animal identification, and environmental rules and regulations. Participants are asked to spin the wheel and answer a question for a piece of candy and the chance to win larger prizes such as t-shirts and hats! In a game where everyone wins, we are able to educate and interact with various ages and members of the public. Be sure to stop by the next time you attend the Wyoming Co. Fair!