Water Quality Programs
Wyoming County Water Resources Coordinating Committee
The Wyoming County Water Resources Coordinating Committee consists of representatives of many various groups and agencies concerned about the quality and quantity of Wyoming County's surface and groundwater. Our purpose is to help coordinate the efforts of private and commercial groups as well as local, state, federal agencies and municipalities in accomplishing our common goals and objectives through voluntary and rational approaches to maintaining and improving our water resources.
Committee Members
*Wyoming County Soil & Water Conservation District
*Cornell Cooperative Extension
*Wyoming County Health Department
*Wyoming County Emergency Services
*Wyoming County Planning & Development
*Wyoming County Board of Supervisors
*Farm Bureau
*Farm Service Agency
*Natural Resources Conservation Service
*NYS Department of Environmental Conservation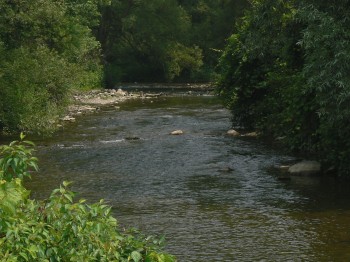 *NYS Soil & Water Conservation Committee
*Oatka Creek Watershed Committee
*Silver Lake Watershed Commission
*Trout Unlimited
*WNY Crop Management Association
Annual Water Reports
2008 Annual Report
2009_Annual_Report.pdf
2010_Annual_Report.pdf
Water Quality Strategy
Wyoming_County_Water_Quality_Strategy.pdf
FL-LOWPA: Finger Lakes – Lake Ontario Watershed Protection Alliance
The Wyoming County Soil and Water Conservation District is a proud member of FL-LOWPA. Through this alliance, the district seeks to promote the implementation of plans that will enhance water quality. With FL-LOWPA the Wyoming County SWCD is able to undertake several local projects, share ideas and project information, and collaborate with other counties.
Lake Monitoring
Silver Lake Monitoring
(CLICK IMAGES TO VIEW LARGER)
Silver Lake is nestled within the towns of Perry and Castile. The lake is used by many for boating, fishing, recreation, and is a water source for three townships. Monitoring on Silver Lake begun in the early 1990s and has continued annually. Each year water samples are taken from the lake and from surrounding tributaries to monitor the quality of the water. Results are then added to a database to look at developing trends and are presented to the Silver Lake Watershed Commission.
08-09_Monitoring_Report.doc
Silver Lake Watershed Maps
Silver_Lake_Watershed.pdf
Silver_Lake_Watershed_Aerial_Photo.pdf
Silver_Lake_Watershed_Land_Use.pdf
Silver_Lake_Watershed_Wetlands.pdf
Silver_Lake_Watershed_Topography.pdf
Java Lake Monitoring
(CLICK IMAGES TO VIEW LARGER)
Java Lake is a quaint lake located in the Town of Java, and is the headwaters for Cattaraugus Creek. Java Lake is used for many types of recreation such as non motorized boating, swimming, and fishing. The Java Lake Monitoring program is performed annually for six months throughout the summer months. Results from the monitoring program are recorded and reported to the Java Lake Water Quality Committee.