Stream Programs
The Wyoming County Soil & Water Conservation District has been involved in several stream programs throughout the county for many years. The District works with private land owners, other Soil and Water Conservation Districts, local municipalities, and NYS Department of Environmental Conservation on these stream projects.
Stream Permit Assistance
The District has maintained a General Stream Permit with the New York State Department of Environmental Conservation (NYSDEC). Through this permit, landowners and municipalities may do work in protected streams in Wyoming County. Project work that is eligible for this permit program could include the removal of small gravel bars, bank stabilization, minor realignment projects, culvert installations, fords, debris removal and other minor projects. The district also provides assistance with the preparation of permit applications for the NYSDEC and U.S. Army Corps of Engineers Stream Permit Programs as well as technical assistance in the implementation of these types of projects.
Stream Clearing Assistance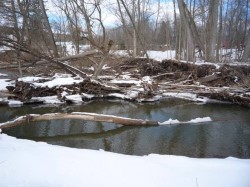 In 1998, the District initiated a countywide stream maintenance program to help landowners and municipalities with channel clearing of gravel, log jams, and flood debris from stream channels in Wyoming County. This program was in response to a severe flood that ravaged much of Wyoming County in 1998. The District and NRCS provide technical assistance with the USDA Emergency Watershed Protection (EWP) and Federal Emergency Management Agency (FEMA) stream protection and flood damage repair programs.

Erosion Control and Streambank Stabilization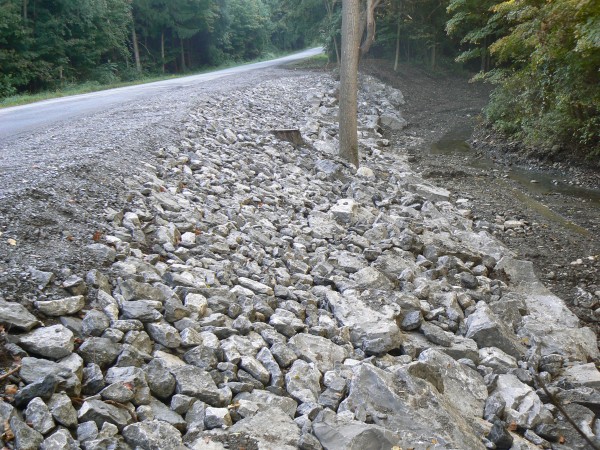 Soil erosion reduces agricultural productivity, damages structures, contributes to poor water quality, degrades aquatic habitat, results in increased flooding and clogs our storm sewers, lakes, and rivers. Prevention of soil erosion is a priority of the District. Wyoming County Soil and Water Conservation District takes a comprehensive approach to erosion control and provides technical assistance in the planning, design, construction, and management of erosion control practices. The District helps implement diverse projects on the landscape, ranging from agricultural best management practices to hydroseeding after a construction project. These practices all have the goal of keeping soil in place on the land. In addition, the District helps implement projects to stabilize streambanks. For decades, Wyoming County has worked on bank stabilization in Buffalo Creek through the Joint Board with Erie County. Today, streambank stabilization projects can be found throughout the County. These projects help protect infrastructure, people's property, and water quality. For example, bank stabilization on Tonawanda Creek helped protect Dunbar Road in Attica.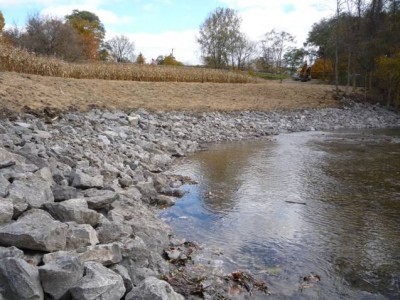 Case Studies
To find out more information on stream projects completed in Wyoming County, click on the links below. Streambank Restoration at Monkey Run Streambank Stabilization on the Oatka Creek Streambank Stabilization on the Wiscoy Creek Wiscoy_Creek_Restoration_Project.doc Ton.Creek_WS_Brochure_.pdf North_Branch_Habitat_Enhancement_Project.pdf
Water Quality Programs Wyoming County Water Resources Coordinating Committee
The Wyoming County Water Resources Coordinating Committee consists of representatives of many various groups and agencies concerned about the quality and quantity of Wyoming County's surface and groundwater. Our purpose is to help coordinate the efforts of private and commercial groups as well as local, state, federal agencies and municipalities in accomplishing our common goals and objectives through voluntary and rational approaches to maintaining and improving our water resources.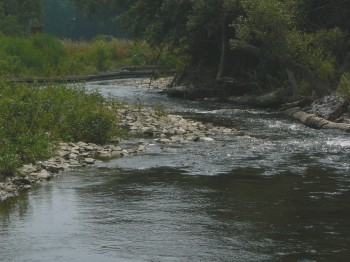 Committee Members
*Wyoming County Soil & Water Conservation District *Cornell Cooperative Extension *Wyoming County Health Department *Wyoming County Emergency Services *Wyoming County Planning & Development *Wyoming County Board of Supervisors *Farm Bureau *Farm Service Agency *Natural Resources Conservation Service *NYS Department of Environmental Conservation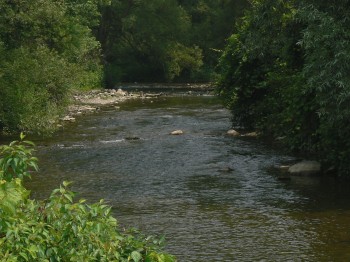 *NYS Soil & Water Conservation Committee *Oatka Creek Watershed Committee *Silver Lake Watershed Commission *Trout Unlimited *WNY Crop Management Association
Annual Water Reports
2008 Annual Report 2009_Annual_Report.pdf 2010_Annual_Report.pdf
Water Quality Strategy
Wyoming_County_Water_Quality_Strategy.pdf
FL-LOWPA: Finger Lakes – Lake Ontario Watershed Protection Alliance
The Wyoming County Soil and Water Conservation District is a proud member of FL-LOWPA. Through this alliance, the district seeks to promote the implementation of plans that will enhance water quality. With FL-LOWPA the Wyoming County SWCD is able to undertake several local projects, share ideas and project information, and collaborate with other counties.
Lake Monitoring
Silver Lake Monitoring
(CLICK IMAGES TO VIEW LARGER) Silver Lake is nestled within the towns of Perry and Castile. The lake is used by many for boating, fishing, recreation, and is a water source for three townships. Monitoring on Silver Lake begun in the early 1990s and has continued annually. Each year water samples are taken from the lake and from surrounding tributaries to monitor the quality of the water. Results are then added to a database to look at developing trends and are presented to the Silver Lake Watershed Commission. 08-09_Monitoring_Report.doc
Silver Lake Watershed Maps
Silver_Lake_Watershed.pdf Silver_Lake_Watershed_Aerial_Photo.pdf Silver_Lake_Watershed_Land_Use.pdf Silver_Lake_Watershed_Wetlands.pdf Silver_Lake_Watershed_Topography.pdf
Assistance to Municipalities
Wyoming County Soil and Water Conservation District has a long history of working with local municipalities. The District provides a wide range of assistance to municipalities. It may be something fairly simple, like hydroseeding a site. However, some projects are quite involved, with District staff designing and then overseeing construction of the project.
Soil and Water District Assistance to Municipalities Includes:
Culvert Evaluations
Sizing a culvert may seem like a simple task. However, improperly sized culverts lead to erosion and can cause flooding. Wyoming County Soil and Water Conservation District staff assist highway departments determine appropriate size and placement of culverts.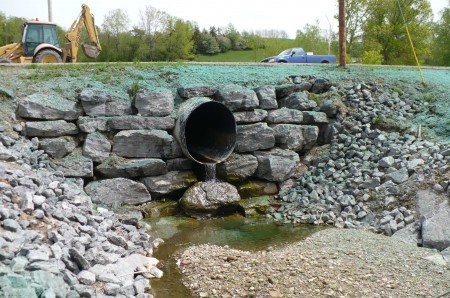 Hydroseeding Program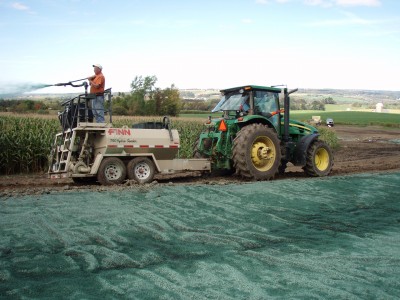 The Wyoming County Soil & Water Conservation District, in cooperation with the Wyoming County Highway Department, operates and maintains a hydroseeding program. The purpose of this program is to assist municipalities and highway departments with a quick and easy method of seeding bare areas such as parks, streambanks, pond dikes, road ditches, and highway construction projects. Establishing a vegetative cover is very important in reducing erosion at construction sites, site developments, and other soil disturbance areas. The Hydroseeder is a machine with a large tank that blends a mixture of seed, fertilizer, water and wood fiber or paper mulch into slurry, which is sprayed on the soil. A tackifier is used on the steeper slopes to help hold the mixture to the soil until the seed can germinate. Our hydroseeding equipment mixes up to 950 gallons of seeding mix that covers approximately 10,000 square feet or approximately ¼ acre. The cost of hydroseeding is a relatively inexpensive method of establishing a uniform cover when the dollars saved in the cost of labor is considered. Our hydroseeding equipment was made possible by a grant to the District from the NYS DEC and the Finger Lakes Aquatic Vegetation Control Program. Blackhouse Road Before Blackhouse Road After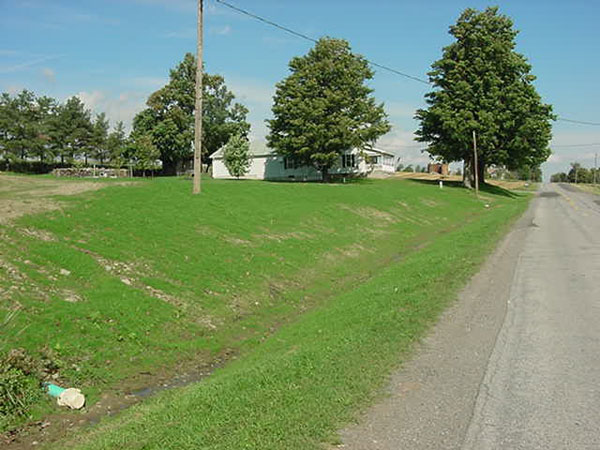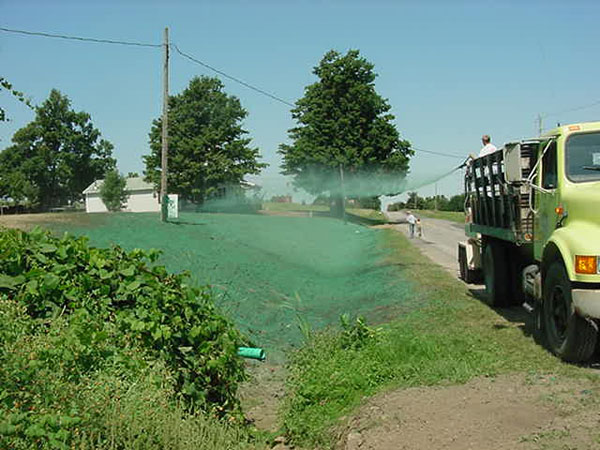 Roadside Ditch Stabilization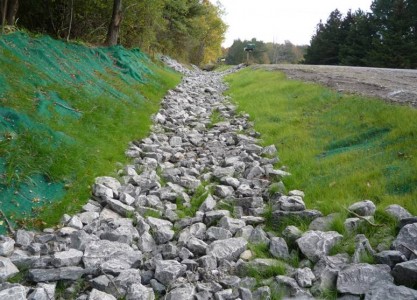 Roadside ditch design and management is important for both driver safety and for water quality. Roadside ditches must be big enough to carry all of the water draining to them in order to keep roads dry and safe. At the same time, roadside ditches must also have stable banks. Otherwise, roadside ditches become a source of sediment and turbidity to local waters. Severe erosion can even lead to damage to the roadway itself. Wyoming County Soil and Water Conservation District has worked with municipalities on many road bank and roadside ditch stabilization projects. Below are just a few examples of recently completed projects.
Luther Grove Road
The Luther Grove Road stabilization project was funded through an Erosion & Sediment Control Water Quality Mini-Grant to the Wyoming County Soil & Water Conservation District and the Wyoming County FL/LOWPA Program. By improving general drainage conditions along Luther Grove Road, this project helped: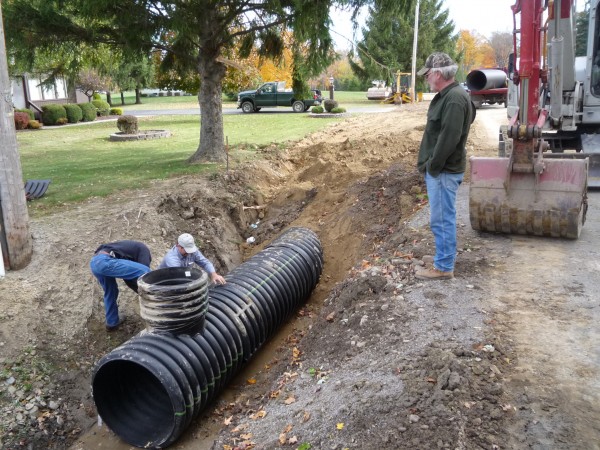 Reduce localized flooding issues within this section of the Silver Lake Watershed.
Reduce road ditch erosion.
Reduce sediment inputs into Silver Lake.
Demonstrate the use of manufactured erosion control products with traditional methods.
Read more about the Luther Grove Road project
Club Road
Club Road had a roadside ditch that was severely eroded and was a source of sediment to Silver Lake. Buried pipes were installed and replaced the roadside ditch. This project helped improve water quality in Silver Lake by reducing erosion.

Streambank Stabilization
Wyoming County Soil and Water Conservation District assists municipalities with streambank stabilization and improvement projects. Click here to find out more information on our stream programs.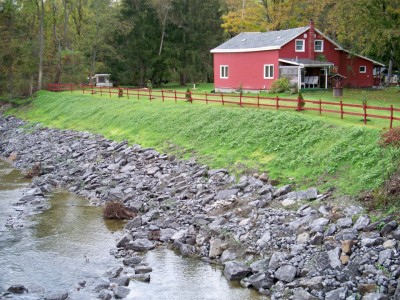 Mine Land Reclamation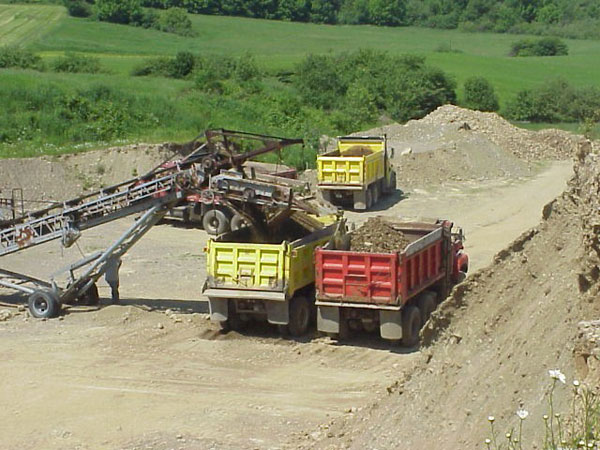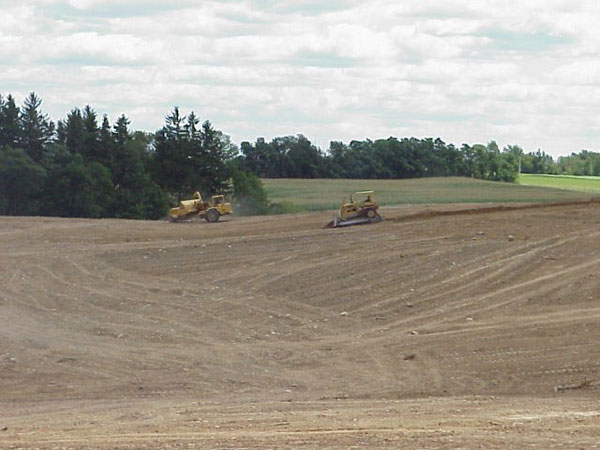 AG - NYS Conservation Reserve Enhancement Program (CREP)

Farmers are now eligible to receive annual rental payments and other financial incentives for enrolling environmentally sensitive land within priority watersheds and public well-head areas in the New York State Conservation Reserve Enhancement Program, otherwise known as CREP. The CREP (pronounced "krep") is a partnership between state and federal agencies designed to help farmers address agricultural related environmental concerns on 40,000 acres of land across the state. Participants voluntarily retire cropland or pastureland that is located on steep slopes or borders streams, creeks, lakes and public well-head areas to help reduce sediment and nutrient runoff from entering critical watersheds. Retiring highly erodible lands and planting it to native grasses, trees and other protective vegetation will enhance water quality and provide shelter, nesting areas and food for wildlife. In return for taking these environmentally sensitive lands out of production and placing them in the CREP for 10-15 year contract periods, producers are eligible to receive the following: annual rental payments, annual maintenance payments, cost-share assistance, practice incentive payments, a signing incentive payment, and possibly an annual tax credit. The CREP agreement between USDA and New York State was signed in October of 2003 and enrollment will be on a continuous basis through December 31, 2007. In order to be eligible to enroll in the CREP, land must be located within the eligible watersheds of 12 major New York State basins or surrounding a public well-head. Additionally, cropland must have been cropped four of the six years between 1996 and 2001 and must be capable of being cropped in a normal manner today. Marginal pastureland is also eligible for enrollment, provided it is suitable for use as a buffer practice. Creating buffers and establishing vegetative cover demonstrates agriculture's commitment to the environment and the health of community neighbors. Producers wishing to learn more about enrolling land in the New York State CREP should contact the Wyoming County Soil and Water Conservation District (SWCD), Farm Service Agency (FSA) or Natural Resource Conservation Service (NRCS) office. Frequently Asked Questions About CREP

1. What is the Conservation Reserve Enhancement Program? The Conservation Reserve Enhancement Program or CREP (pronounced "krep") is a federal and state conservation partnership designed to address agriculture-related environmental concerns. Participants receive financial incentives from USDA to voluntarily enroll environmentally sensitive cropland or pastureland in contracts for a period of 10 to 15 years. In return for annual rental payments and financial incentives, participants convert the land to native grasses, trees and other conservation vegetation 2. What are the environmental benefits of CREP? The New York CREP will help farmers address erosion and nutrient runoff within New York's high priority watersheds. CREP's aim is to remove environmentally sensitive cropland planted on steep slopes or bordering streams, creeks and lakes. Retiring highly erodible cropland and planting it to protective vegetation will enhance water quality, while providing shelter, nesting areas and food for wildlife. Buffers planted along stream banks will filter phosphorus, nitrogen and sediment from runoff before it enters the waterways. 3. What areas in New York are included in the program? CREP is available in specified watersheds throughout the state. Eligible watersheds were selected because the NYS Priority Waterbody List indicates that they are negatively impacted due to agricultural activities. USDA and NY State aim to place 40,000 of the most environmentally sensitive acres into the program. Public wellhead protection areas, as designated by the New York State Department of Health, are also eligible for enrollment within these watersheds. CREP will remove cropland acreage surrounding wellheads from crop production, thereby reducing the potential for contaminants to affect the water supply. 4. What are the goals of the New York CREP? The goals of the New York CREP are: Reduce nutrient loading of * phosphorus from 145,284 pounds per year to 72,642 pounds per year * nitrogen from 77,376 pounds per year to 38,688 pounds per year * sediments from 175,316 tons per year to 70,126 tons per year Reduce the potential for pathogens to enter identified waterbodies. Establish riparian buffers adjacent to 4,598 stream miles and 473,457 acres of surface waters. Establish conservation vegetation on areas that serve Environmental Protection Agency approved wellhead zones. 5. What type of cropland is eligible for CREP? Eligible cropland must have been cropped four of the six years between 1996 and 2001. Additionally, the land must be physically and legally capable of being cropped in a normal manner. Marginal pastureland is also eligible for enrollment provided it is suitable for use as a buffer practice. 6. What conservation measures are applicable? * Field boundaries and marginal pastureland adjacent to surface water are the primary focus of the program. These acres would be planted to grass or a combination of grasses, shrubs and trees. * Whole fields may be enrolled, but to qualify the slope of the acreage must be highly erodible and 50 percent of the acreage must be within 1,000 feet of a surface water source. These fields may be planted to grasses, trees, wildlife habitats and/or wetlands. * Fields located in wellhead protection areas can be planted to grasses and trees as well. 7. What will producers earn under CREP? New York CREP participants will be eligible for the following types of USDA payments: * Annual Rental Payments: all producers will receive an annual rental payment based on the soil's pre-determined rental rate. This rate will then be increased by an additional 145 percent as an incentive to enroll in the program (Example: A $40 rental rate plus the 145% incentive payment ($58) equals a $98/acre annual rental payment.). Annual rental payments are issued in October. * Annual Maintenance Payment: To offset any cost incurred by the producer for preserving the conservation practice, a maintenance payment of $5 to $10 dollars per acre will be added into the annual rental payment. * Cost-Share Assistance: USDA will reimburse farmers up to 50 percent of the eligible costs for installing conservation practices. * Practice Incentive Payment: As an incentive to establish certain practices, a one-time payment equal to 40 percent of the installation cost will be issued. This payment is in addition to the cost-share assistance and issued upon completion of the practice. * Signing Incentive Payment: Eligible producers will also receive a one-time payment of $100 to $150 per acre for land enrolled in a grass waterway, riparian buffer or filter strip practice. This payment is made after the contract has been signed and approved. In addition, New York will offer: * An annual tax credit: CREP acres may be added to the first 250 acres of qualified agricultural land eligible for a New York State income tax credit to offset school taxes. Cost-Share Assistance: Producers may be eligible to receive additional cost-share assistance through New York State on a competitive basis. 8. Are there other benefits to enrolling in CREP? Establishment of riparian buffers and other CREP practices is a visible way to demonstrate your commitment to environmental stewardship. Neighbors and community members often notice and appreciate these efforts toward protecting water quality and wildlife. Participation in CREP can also help ensure a safe drinking water supply for your livestock by reducing contaminants entering surface water. If livestock are fenced out of streams altogether, an alternate water supply may be installed to provide fresh drinking water. 9. When will CREP sign-up begin? The CREP agreement between USDA and New York State was signed on October 29, 2003. Enrollment will be on a continuous basis through December 31, 2007. Each CREP contract is for a 10 to 15 year period. Farmers and landowners can enroll at their local Farm Service Agency office or the Soil and Water Conservation District office. 10. Where can I get more information about the program? More information on the New York CREP is available from local Soil and Water Conservation District, Natural Resource Conservation Service or Farm Service Agency offices and on FSA's Web site at: [url=http://www.fsa.usda.gov]http://www.fsa.usda.gov[/url]. NYS CREP is a partnership between: United States Department of Agriculture New York State Soil & Water Conservation Committee New York State Department of Agriculture & Markets AG - Agricultural Environmental Management (AEM) What is AEM?

Agricultural Environmental Management (AEM) is a voluntary incentive-based program that helps all farmers operate environmentally sound and economically viable businesses. The AEM Program coordinates existing agricultural and environmental conservation agencies and programs as well as agribusiness, to provide one-stop shopping for services. All agricultural counties in New York State are currently conducting ARM programs and participation has grown to include nearly 8,000 farms. Why AEM? The AEM Program helps farmers address sources of water pollution originating from agricultural activities by:

Assessing environmental concerns associated with their farming operations
Documenting current stewardship
Developing management plans
Implementing environmentally sound practices to address identified concerns
Complying with state and federal environmental regulations

Local management of program activities allows AEM to respond effectively to side-specific agricultural practices, local environmental concerns, and individual business objectives. How does AEM work? AEM uses a five tiered approach to help farmers develop and implement effective and profitable farm plans. Tier 1: A short questionnaire surveys current farm activities, farmer's future plans, and identifies potential environmental concerns. Tier 2: Farming operation worksheets document current environmental stewardship while identifying and prioritizing environmental concerns. Tier 3: Local teams of resource professionals help farmers develop solutions to specific environmental concerns identified in Tiers 1 and 2. Plans are designed with a farm's mission, goals, and objectives in mind. Tier 4: Agricultural agencies and consultants provide farms with technical educational, and financial assistance to implement Best Management Practices. Tier 5: Ongoing evaluations help ensure that AEM helps protect both the environment and the viability of farm businesses. AEM Benefits the Farmer & the Environment

AEM helps farmers:

Manage manure and fertilizer nutrients
Manage barnyard run-off and process wastewater
Conserve soil
Protect drinking water
Improve neighbor and community relations
Promote the economic and environmental benefits of farmland to the community
Comply with environmental regulations
Be consistent with permit requirements for Concentrated Animal Feeding Operations (CAFOs).

What Assistance Does AEM Provide? AEM links farmers with program partners to address specific environmental issues on the farm. Financial Assistance Cost sharing for environmental farm plans and BMP implementation can come from:

NYS Agricultural Nonpoint Source Abatement and Control Program (ANSACP)
NYS Farmland Viability Grants
NYS Energy Research & Development Authority grants (NYSERDA)
USDA Farm Bill Programs such as the Environmental Qualities Incentive Program (EQIP) and the Conservation Reserve Program (CRP)

Technical Assistance & Education

Environmental plan development
Best Management Practice design & installation
Education programs to help farmers operate viable and environmentally sound farms

AEM Objectives
Provide a voluntary, incentive based program to address water quality concerns on farms
Coordinate a watershed based approach
Document environmental stewardship
Adopt Best Management Practices (BMPs) consistent with farm resources.
Increase farmers' awareness of their potential impact on the environment
Increase non-farmer awareness of agriculture's multiple environmental benefits
Address neighbor relations
To learn more about AEM, please contact:
The Wyoming County Soil and Water Conservation District
The USDA Natural Resource Conservation Service
Cornell Cooperative Extension
A Certified AEM Planner
This information was provided in a brochure distributed by The AEM Coordinator, NYS Soil & Water Conservation Committee.
AG - Best Management Practices (BMPs) Protecting and improving the quality of Wyoming County's water resources is one of the main objectives of the Soil and Water Conservation District. The implementation of Best Management Practices (BMPs) throughout the County are aimed at decreasing transfer of soil and nutrients to our water resources. The Wyoming County Soil and Water Conservation District provides technical assistance in the planning and design of erosion control practices and many agricultural BMPs. All of these activities help to protect our water resources. Along with technical assistance to land owners, the Soil and Water Conservation District has been involved in research on some of the area lakes and streams, attempting to observe the effects of installed BMPs. Water and Sediment Control Basin (WASCOB)
Stabilized Waterways Grassed Waterway Eroding channel before Regraded and installed geotextile fabric

Hydroseeded to help vegetation grow Finished grassed and stabilized waterway


Rock-lined Waterway
Cover Cropping AG - Non-Point Source Program NYS Agricultural Nonpoint Source Pollution Abatement & Control Grant Program This grant program was established in 1994 by the State of New York to assist farmers in preventing water pollution from agricultural activities by providing technical assistance and financial incentives. County Soil and Water Conservation Districts apply for the competitive grants on behalf of farmers and coordinate funded activities. Grants can cost-share up to 75% of project costs or more if farm owners or operators contribute, in the following two areas: 1. Planning; funds awarded to conduct environmental planning 2. Implementation; funds awarded to construct or apply management practices The New York State Soil and Water Conservation Committee and the Department of Agriculture and Markets coordinate the statewide program and allocate funds provided by the NYS Environmental Protection Fund on a semi-annual basis. Since the program began in 1994 more than $50 million has been awarded to 53 Soil and Water Conservation Districts across the state to help farmers reduce and prevent agricultural sources of Nonpoint Source (NPS) Pollution. What is Nonpoint Source (NPS) Pollution? The primary cause of New York's remaining water quality challenges can be attributed to NPS pollutants. According to the Federal Environmental Protection Agency: NPS pollution is caused by rainfall or snowmelt moving over and through the ground. As the runoff moves, it picks up and carried away natural and human-made pollutants, finally depositing them into lakes, rivers, wetlands, costal waters, and even our underground sources of drinking water. These pollutants include:

Excess fertilizers, herbicides, and insecticides from agricultural lands and residential areas;
Oil, grease, and toxic chemicals from urban runoff and energy production;
Sediment from improperly managed construction sites, crop and forest lands, and eroding stream banks;
Salt from irrigation practices and acid drainage from abandoned mines;
Bacteria and nutrients from livestock, pet wastes, and faulty septic systems, etc.

What are Rounds? Rounds are the state's term for the nonpoint source program funding cycle. For the most part, rounds have been announced on an annual basis with one round of funding per state fiscal year. Since the program's inception in 1994, there have been a total of 17 rounds of funding available to Districts. AG - Agricultural Waste Management
Agricultural Waste Management is the management of on-farm generated wastes in an environmentally, economically, and agronomically responsible manner, addressing manure, milkhouse waste water, barnyard water, silo leachate, and other organic wastes as needed. One of the goals of agricultural waste management is to utilize the waste by recycling it through soil and plants. Waste can be collected, stored, and then spread on the land. Proper nutrient management planning helps ensure waste is applied to the land at rates that won't contribute to nutrient pollution problems in nearby waterways. Wyoming County Soil and Water Conservation District has assisted with numerous agricultural waste management systems. Scroll through the photos below to see a few examples of projects.
Examples of Local Ag Waste Projects
Steel Manure Tank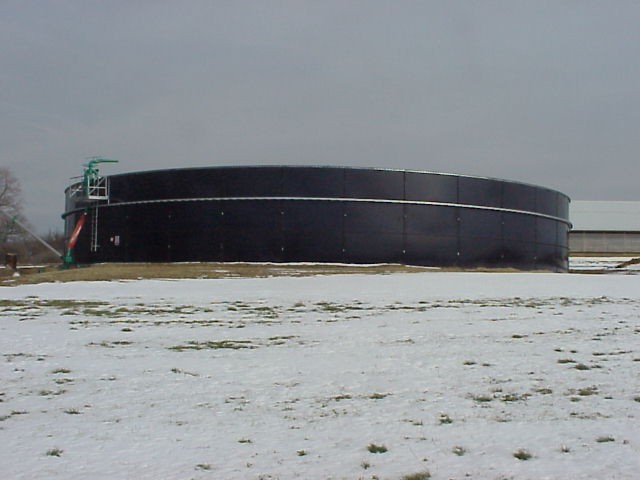 Earthen Manure Storage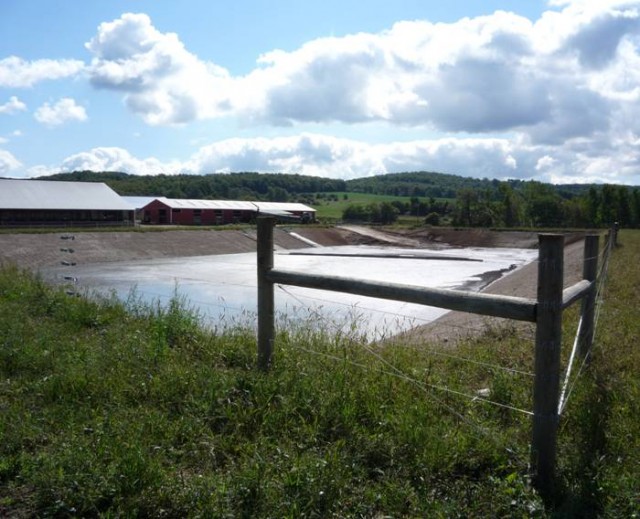 Construction on Concrete Manure Storage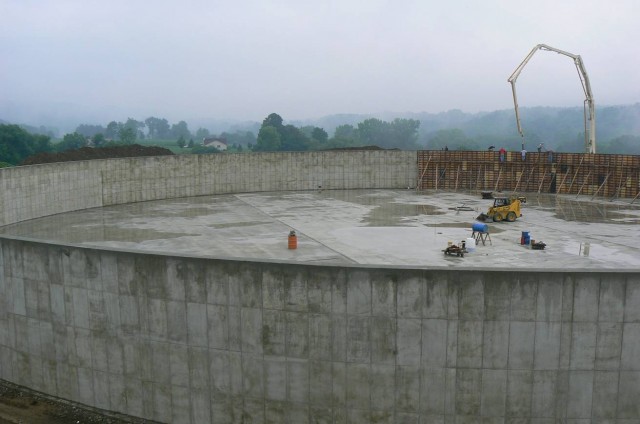 Silage Leachate Collection System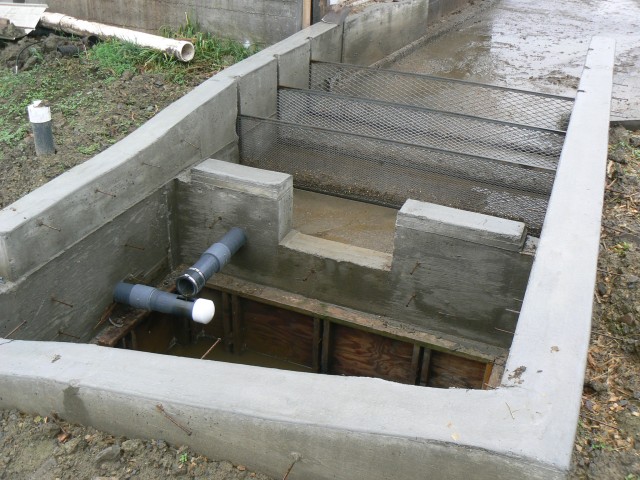 Milkhouse Waste System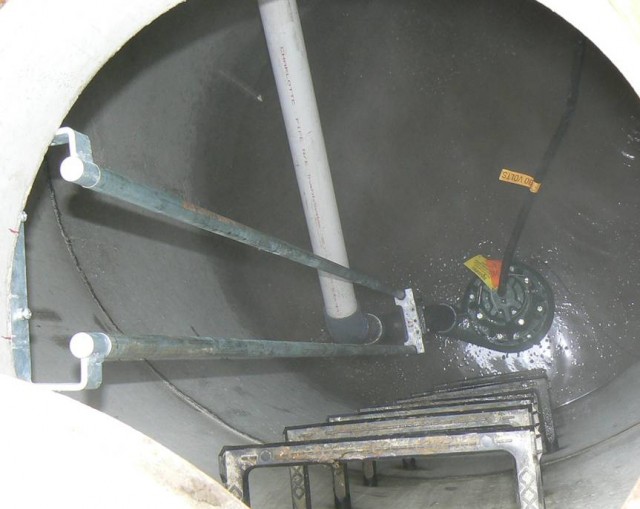 AG - Agricultural Value Assessments

The agricultural assessment program allows eligible farmland located both within and outside agricultural districts to be taxed at its agricultural assessment, rather than at its fair market value. The agricultural assessment value establishes an "upper limit" for taxable assessments on eligible farmland. Any assessed value which exceeds the equalized agricultural assessment on the land may qualify for a reduced tax assessment. Landowners must apply to their local town assessor annually for an agricultural assessment. To qualify for an agricultural assessment, you must meet one of the following criteria:

Own at least seven acres of land which produces a minimum of $10,000 annually, or own less than seven acres of land which produces a minimum of $50,000 annually, on average, in the preceding two years from the sale of crops, livestock, or livestock products.
Have a start-up farm operation in the first year of operation on owned or rented land that meets the minimum acreage and sales thresholds.
Own rented land if the land independently satisfies the minimum acreage and sales requirements (see above) or is being used pursuant to a lease agreement of five or more years in conjunction with land which independently qualifies (in other words, if the operation leasing the land meets the acreage and sales requirements).

For more detailed information on Ag Value Assessments, please click here to visit the NYS Department of Taxation and Finance for an overview of the rules or contact your local assessor for more detailed information on qualifying for the agricultural assessments. Contact information for local assessors can be found here. NOTE: Owners who convert lands benefiting from an agricultural assessment to non-farm use are liable for conversion payments based on the amount of taxes saved. Owners contemplating a conversion may determine the payment owed by contacting their assessor or by contacting the Wyoming County Real Property Tax Services at (585) 786-8828. Soil Group Worksheets

If you think you qualify for an agricultural assessment, the first step is to get a Soil Group Worksheet made. We make the Soil Group Worksheets here at the Wyoming County Soil and Water Conservation District. The cost is $20 per parcel. Before you call, please have your parcel's tax id (usually looks something like 12.-3-45.67 and is located on your tax bill) and the total acreage of the parcel ready. We will ask you for your name, address, phone number, tax id, and parcel acreage. It usually takes a day or two for us to complete the worksheet, but may take longer closer to the application deadline. Once completed, you can either pick up your Soil Group Worksheet or we can send it out to you with an invoice. We accept cash and checks for payment. Remember: Applications for Agricultural Assessments are due March 1st each year, so please plan accordingly. You have to apply for the Agricultural Assessment each year. However, you do not need a Soil Group Worksheet made every year. You will need a Soil Group Worksheet made if:

This is the first time you are applying for the Agricultural Assessment
The owner of the parcel changes
The dimensions of the parcel changes
The amount of land used for agricultural production changes

Please contact us here at Wyoming County Soil and Water Conservation District if you have any questions. Other Requirements Please contact your local assessor to determine what other documents are necessary to apply for the Agricultural Assessment. Their contact information can be found here.