Ag Plastics Recycling

The Wyoming County Program
Wyoming County Soil and Water Conservation District collaborates with Cornell Cooperative Extension to bale and recycle agricultural plastics. In 2013, 86 bales of agricultural plastics were prepared for recycling. This is equivalent to approximately 43 tons of plastic! These bales would normally go into the landfill but are instead shipped out of the county to a recycling plant.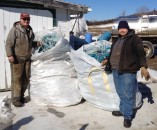 Maple Tubing Recycling
Wyoming County has also recently started collecting maple tubing for recycling. The tubing is collected in 1-ton tote bags and then shipped to the recycling plant.


Interested in having your ag plastics recycled?
To find out how to prepare plastics and tubing for recycling or to schedule an appointment to have your plastic picked up, please call us here at Soil and Water or contact Ed James of Cornell Cooperative Extension at (585) 969-1122.
The links below also provide more information on the ag plastics recycling program.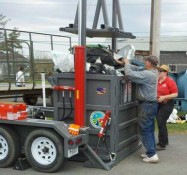 Silage Bags, Bunker Covers, Bale Wrap, etc.
Best management practices to keep plastic clean enough to recycle.
Off to be made into plastic plywood!